With so many photographs being taken year (1.2 Trillion in 2017 according to Infotrends) you would expect every topic to be covered in detail, including women in business.  This however is not the case as I and several other women in business I know can attest to.
Searches for photographs of groups of women result in either executive type business women in power suits or women taking part in leisure activities.  The biggest problem with most available images is the lack of diversity of women; in age, size, dress and ethnicity.  With this is mind with the help of a willing group of diverse business women I have started to address this gap in the market with a selection of stock photos showing women in group and business situations, taking control and leading their businesses.
This branch of stock photography was a departure from my usual comfort areas but it has been a thoroughly enjoyable experience and one that I hope to build on covering different areas of business and industry.  Below are some of the things I have learnt from my first group photo sessions.
Make a Plan
Before you get to your shoot make a list of the pictures you want to try and achieve.  You may not stick to it rigidly but it will help you to make to most of the time available.
Check the background
Whatever type of photography you are engaging in, checking the viewfinder before you shoot is a good habit to get into.  Make sure there's nothing jutting into shot that you will regret later.  You may be able to touch up areas in photoshop but this is time consuming and doesn't always give good results.  Best to move things and not have to worry about them.
VPL
Nobody likes VPL and it doesn't look attractive so give your models a once over before shooting to make sure there's nothing on show that shouldn't be.  Everyone wants to look their best regardless of age or size.  When you take pictures from different angles also be aware of models showing more flesh than they intended. Be careful with low cut tops revealing too much cleavage and short skirts showing too much thigh.  Also remember knees together!
What to do with your hands
There is nothing worse than posing for a photo and not knowing what to do with your hands.  This is where props come in, blank pieces of paper, mugs, pads and pens are always good for business type images.
Different Angles
When you've got your group set up, take lots of images from different angles.  Get up high and shoot from above and get down low and shoot on the same level as your subjects. Also walk around the setup to get different perspectives.
Model interaction
The best way to get your business women looking natural is for your models to interact with one another.  Chat about what you saw on TV last night or have a bit of fun role-playing a meeting or training, whatever works for your particular group.  The changes of position and gesture and facial expressions with give a broader range of appeal.
Model Release
Although you don't always need a model release form for stock photography if you have signed release forms your pictures will have a broader market.  A simple form to be completed and signed by your models and you can be downloaded from most picture libraries.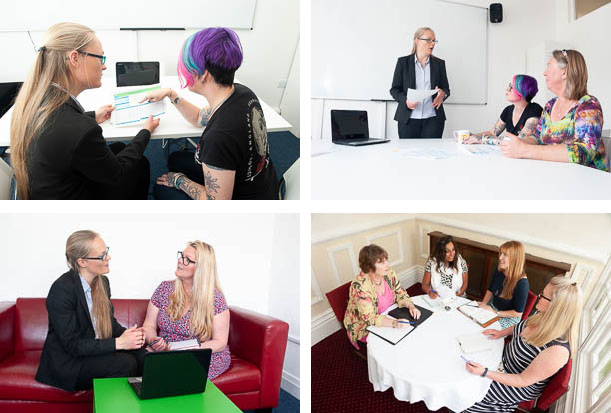 If you are a woman in a business or trade that struggles to find stock imagery that reflects your business or would like to help build the library I would love to hear from you. Click here for all the ways you can contact me
To see the current collection online please visit My Alamy Portfolio
Other Posts you Might Find Interesting