If you are looking for professional headshot photography in Devon then please get in touch and we can discuss your requirements.
Professional headshots used to be only for actors and models, but in the digital world more and more ordinary people need to have a professional headshot photograph.  People like to connect with people so having a professional image on your website or social media profile can convey the right message to your clients.
Not all of us are confident in front of the camera having our picture taken. This is why my approach to professional headshot photography is very informal with shoots taking place in a setting that makes you feel comfortable.
How I work
During the course of the session I will talk to you to get a sense of who you are and to help you relax.  I won't ask you to give a big cheesy smile, I will take lots of pictures as we talk to capture you looking like yourself and very natural. I will ask you to change your stance and the backdrop several times to capture you looking your best.  Throughout the process I will show you the results on the back of the camera and will be happy to be guided by what you want to achieve.
The Results
I don't have set packages so the number of images you receive will vary from shoot to shoot. It will also be dependent on how happy you and I are with what has been taken in the time.  I will provide you with a selection of full-frame,high resolution images via digital download, this normally within 2 weeks of the shoot. If you require your images sooner than this please let me know.  If required, images can be provided cropped to specific proportions or reduced to fit online profile dimensions.
Sample Images and Testimonials
Below are a few samples of recent shoots: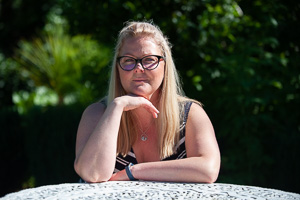 Rhiannon is an author and blogger who wanted a series of professional headshot images that she could use to illustrate her regular blog posts and other online content.  This particular image was one of several taken with Rhiannon in different poses and positions outside on a sunny day in her garden.
"I have absolutely loved working with Helen on my collection of headshots and ensembles this year. She really listens to what you're trying to achieve and prepares thoroughly. She comes with her own ideas and is really happy to incorporate yours. If you want to be the art director of the shoot, she's more than happy to accommodate that. We have done two shoots so far and I cannot recommend Helen enough for this type of work."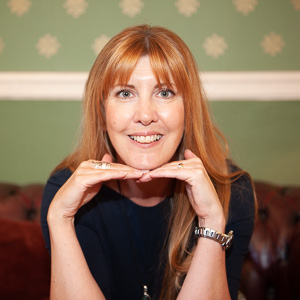 Karen is a successful artist who was clear that she wanted a professional headshot that captured her personality without being cliched.  This shot was taken in a hotel lounge where the green wallpaper and leather sofa adds a slightly bohemian feel.
"Getting your photo taken can be one of those things you really dread, but Helen has skill, sensitivity, and the precious knack of getting you to relax. So much so that, while I thought I was having a conversation, half the photo shoot seems to have taken place!  This resulted in really natural photographs, which is exactly what I was after for use on my website and other promotional material.  Helen's selection of location, background setting, and professionalism in swiftly getting headshots to me to review was much appreciated too.  I had an enjoyable time and ended up with some beautiful photos. Can't quite believe it's me! Thank you so much Helen."
Blog Posts you Might Find Interesting