Photographs are a great way to personalise your rooms and transform a house or flat from an impersonal space into a truly unique space which reflects your tastes and moods of the moment.  Unlike decoration photographs can transform your rooms in a matter of minutes and can be changed whenever you feel like a change of mood or to reflect the changing seasons.
Here are my top 10 ways to use photographs to transform your living space into a home:
1. Create a Focal Point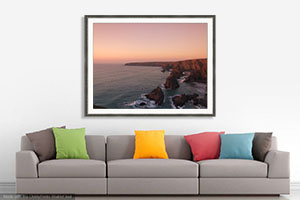 Large blank walls call for big bold images.  Fill the space above your sofa with a large canvas or framed photograph to add instant warmth to your living space.  Landscape pictures work really well but if you prefer something a bit different abstract photographs can work as well.  Choose pictures with colours that tone well with the rest of your decor or choose bold and bright in a plain white room.
2. Create a Talking Point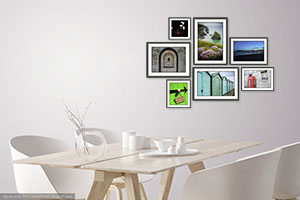 Small framed pictures can work really well to create a talking point in your dining room.  Group lots of pictures together either on a common theme or just a random assortment of photographs that you like to create a picture cloud above your dining table.  This will generate comment and stimulate conversation whenever you have guests over for dinner.
3. Cheap and Cheerful Posters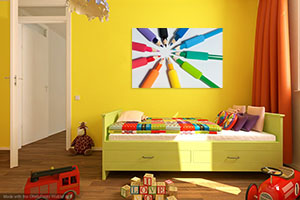 Whether you are working to a tight budget or are wanting to decorate a kids or teens bedroom without breaking the back, posters offer a cost effective solution.  For a teen den stick them to the wall with blutak so they can be taken down and changed as tastes and fashions change (as long as you don't mind greasy marks on your paintwork) or for a more sophisticated look mount them in a low-cost clip-frame.
4. Showcase Your Hobby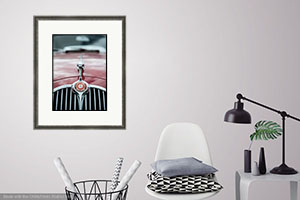 Whether it's the man-cave or study that needs a lift, choosing photographs of your hobbies and dreams is a great way to decorate your room.  Pick a nice frame to match your furniture and add a photograph with a nice wide mount to draw the eye into the picture.
5. Shower in Style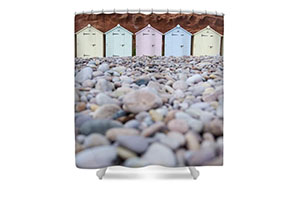 Bathrooms tend to be blank canvasses as far as decoration goes with white fittings and tiles, just waiting for you to add a personal stamp.  Photographic shower curtains are a great way to add colour and exoticism to your bathroom.  Whether you choose an abstract single colour image or an exotic beach location is up to you.  And when you get bored you can always take it down and try something new.
6. Brighten up that Dark Corner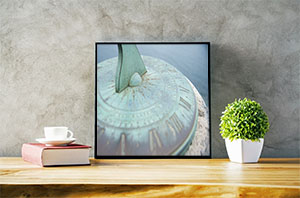 Every home has one!  It's that corner behind the front door or the dark alcove that never gets any sunlight.  Choose an uplifting photograph that will lift the mood of the dark corner.  If your corner is really dark you might want to add a light to shine down on the picture or if there's room place a lamp on a table below.  Whatever you do it'll give your room an extra dimension.
7. Create a Triptych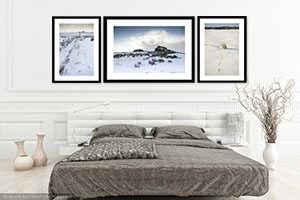 A triptych is three photographs together on a common theme, these are great on a blank wall above a bed.  Pictures can either be horizontal or vertical but should all have common dimensions and the same frame and mount so they work together as a set.  If you are short of space you could create a diptych instead which only needs two photographs.
8. Standout Stationary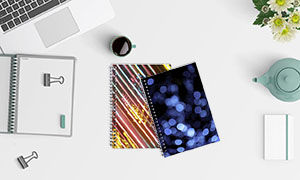 Be the envy of your classmates or colleagues with a personalised photo notebook.  Spiral bound books are great for taking notes in meetings and class or simply for jotting down your thoughts and ideas.
9. Food for Thought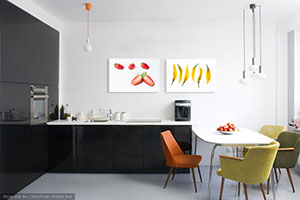 Do you struggle for inspiration in the kitchen?  Choose food photography to decorate this space of your house, not only are pictures of food highly decorative they can also stimulate your culinary juices when it comes to whipping up a meal to feed the family.  Framed photographs and acrylic prints offer more durability than canvases in the steamy damp atmosphere of a well used kitchen.
10. Totes of Style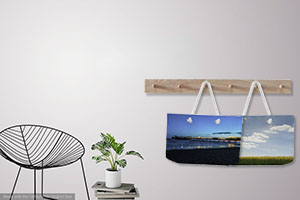 Photography need not be limited to your walls with printed tote bags with photographs of your choice.  These heavy duty bags are great for grocery shopping or carrying your gym kit and when you're not out and about with them they add extra colour to your home when hung on pegs in your hallway.
All the images shown in the room settings are available to buy in a range of sizes and formats from www.helennorthcott.co.uk
Room mock-ups created using Wallapp